Conservative conference: UK in period of adjustment after Brexit, says PM
Boris Johnson says the UK is in a "period of adjustment" after Brexit and Covid as the country faces petrol shortages and supply chain issues.
A lack of HGV drivers and high demand plunged the UK into a fuel crisis last week, with lengthy queues and closures.
Worries persist about the cost of living, as food and energy prices rise, alongside cuts to universal credit.
But the PM insisted his plan for a higher wage, higher skilled economy would offer a long-term solution.
Speaking to the BBC's Andrew Marr on the first day of Conservative Party conference, Mr Johnson said: "There will be a period of adjustment, but that is what I think we need to see."
He would not say if supply issues would affect Christmas, but later told reporters he was "very confident" the festive season would be "considerably better" than last year.
A few thousand people held an anti-government outside the event in Manchester on Sunday, where the Tories will be hosting party members until Wednesday.
The PM also refused to rule out raising taxes again just three weeks before Chancellor Rishi Sunak announces his annual Budget.
He said he was a "zealous opponent of unnecessary tax rises", but warned the pandemic had hit the UK's economy like a "fiscal meteorite".
Last month, the government announced it would be raising National Insurance to pay for health and social care.
At the time, when asked whether he would rule out additional taxes, Mr Johnson said he could give an "emotional commitment" that he did not want to introduce further rises.
Earlier this year Mr Sunak also froze income tax thresholds – leading to more people paying the levy – and the extra £20 weekly universal credit payment, brought in during the pandemic, is due to end this week.
Asked on Sunday by Andrew Marr if he would raise taxes again, Mr Johnson replied: "If I can possibly avoid it, I do not want to raise taxes again."
The PM added: "I can tell you that you have no fiercer and more zealous opponent of unnecessary tax rises than me, but we have had to deal with a pandemic on a scale which this country has not seen before in our lifetimes and long before.
"We don't want to raise taxes, of course we don't, but what we will not do is be irresponsible with the public finances."
'We are a low tax party'
Cabinet members are warning against any further tax increases, with Leader of the House Jacob Rees-Mogg telling a party conference fringe event that "tax is about the highest level it has been since the war" and "we are at the upper reaches of the reasonableness of the tax burden".
He added: "We are [at] about the limit of what taxes we can raise."
Tees Valley Tory Mayor Ben Houchen also called on the PM to avoid further tax rises, saying they would not be "helpful" for businesses coming out of the pandemic.
Speaking to BBC News at the conference, he said: "I appreciate it is a difficult job being the prime minister and chancellor [and] to balance the books.
"But if we want to support those businesses to create those jobs to put more money in people's pockets, I don't think tax rises are the way to go about it."
Foreign Secretary Liz Truss insisted the government did not want to put additional tax burden on working people, saying growing the economy would "pay the bill from Covid".
She told the BBC: "None of us want to see taxes rise, we are a low tax party. We understand that it is enterprise that is going to deliver the opportunities and we need to keep the tax burden low at the same time as growing our economy."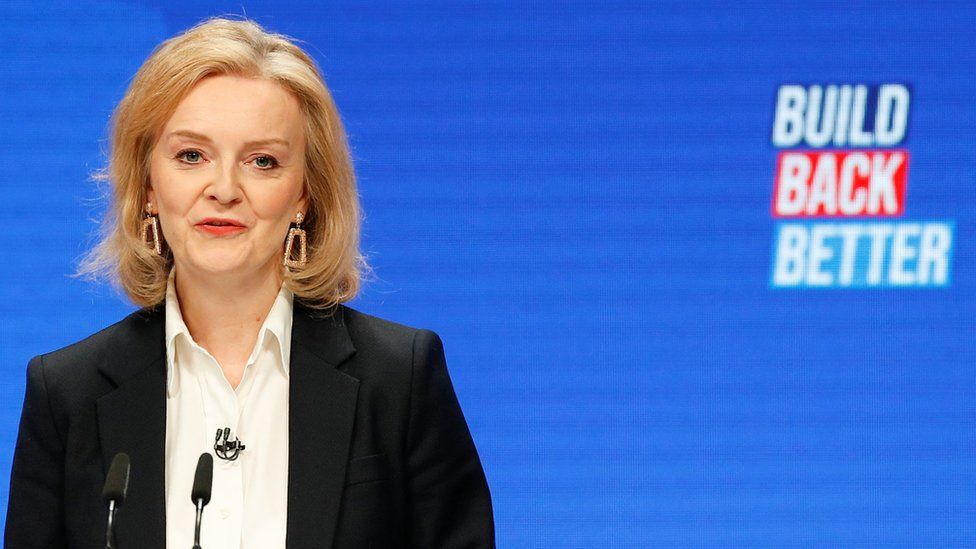 Asked about job shortages and supply issues in shops and on petrol forecourts, the PM insisted the lack of lorry drivers – affecting the delivery of goods – was not just a UK issue, claiming the United States and China were seeing similar problems, as well as some countries in Europe.
And he said the petrol shortages were "very largely driven by demand", adding: "I understand people's frustrations and I understand how infuriating it is when you turn up and can't get any. But we are making sure we have the supplementary drivers where necessary."
Mr Johnson called out those who wanted to "go back to the tired, failed old model" of "reaching for the lever called uncontrolled immigration" to bring people into the country to fill the job gaps.
But he did not reject comments made by Mr Sunak, who told the Daily Mail the "very real" shortages could affect Christmas,
Instead the PM said the country was going through a "period of adjustment" post-Brexit and needed to look to a future of "better paid, better skilled jobs" for British people.
Mr Johnson added: "What we had for decades was a system whereby [sectors like] the road haulage industry… were not investing in the truck stops, not improving conditions, not improving pay and we relied on very hard working people who were willing to come in, largely from European accession countries, to do that work under those conditions.
"What you need to do is make sure that people now invest in basic equipment, such as truck stops, and better pay.
"When people voted for change in 2016 [over Brexit] and when people voted for change again in 2019…they voted for the end of a broken model of the UK economy that relied on low wages and low skill and chronic low productivity and we are moving away from that."
Andrew Marr and Boris Johnson argued about what's happened to the average wage, with the prime minister saying we're finally seeing "growth in wages, after more than 10 years of flat-lining" but Andrew Marr saying that "in real terms over the last three months wages have gone down, not up".
So, what's been happening?
Real wages, a measure that takes account of rising prices, peaked just before the financial crash in 2008 and only returned to that level in August 2020.
So, there has been a decade of little improvement overall.
Rather than "flatlining" – as Mr Johnson claimed – it was actually roughly five years of falls followed by growth over most of the last five years.
Last year saw record dips and jumps as the economy was shut down and then re-opened.
But the most recent figures from the Office for National Statistics suggest that growth may be stalling, with real wages looking lower in July than they were in April.