Mikheil Saakashvili: Georgian ex-president arrested returning from exile
Georgia's former President Mikheil Saakashvili has been arrested on his return from exile.
The pro-Western Mr Saakashvili led the Caucasus country from 2004 to 2013 but was later convicted in absentia on corruption charges, which he denies.
On Friday he posted a video on Facebook saying he was back in Georgia ahead of local elections on Saturday.
Hours later, Georgia's prime minister announced the former president was in custody.
Initially the government denied that the 53-year-old had entered the country, but then Irakli Gharibashvili said "the third president of Georgia, the wanted Mikheil Saakashvili, has been arrested and sent to jail".
Footage broadcast on Georgian television showed the former president in handcuffs and smiling as officers led him away.
A Georgian rights ombudsman who visited him in prison said he had started a hunger strike and that he considers himself a political prisoner.
President Salome Zourabichvili has said she will not pardon Mr Saakashvili.
Despite being abroad for eight years, the former president is still widely seen as a leading opposition figure and has called on supporters to rally in the capital Tbilisi.
In his video message on Friday, which Mr Saakashvili said was filmed in the Black Sea port city of Batumi, he said he had "risked my life and freedom to be back".
And in a second pre-recorded message posted on his Facebook page after his arrest, he said he was "in all likelihood… being arrested now" but urged people to vote on Saturday.
"I will fight to the end," he said in his video message. "Tomorrow we must – lots of people – get out on the streets and win this election."
Mr Saakashvili has repeatedly urged voters to back the United National Movement (UNM) in Saturday's poll – the main opposition party which he founded – against the ruling Georgian Dream party.
The former president has for the most part lived in Ukraine since leaving Georgia. He renounced his Georgian citizenship in 2015 when he became governor of Ukraine's Odessa region.
Three years later, a Georgian court convicted him of abusing his office and sentenced him to six years in prison – charges he said were politically motivated.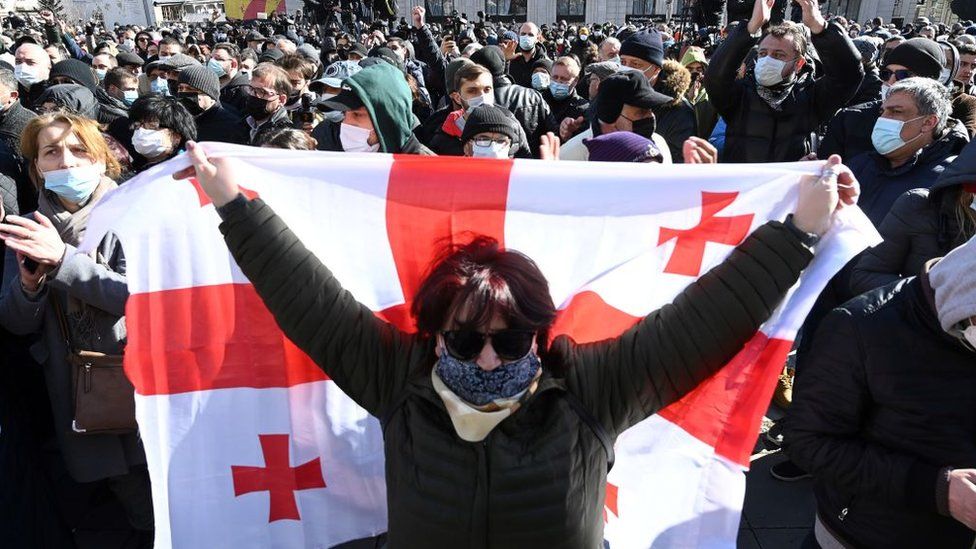 Earlier this week, Prime Minister Gharibashvili reportedly vowed to immediately arrest and imprison the former president if he "sets foot on Georgian soil".
Georgian Dream, which backs Mr Gharibashvili, has been in power since 2012. It narrowly won last year's parliamentary election in a vote opposition groups said was rigged, something Georgian Dream has repeatedly denied.
After the poll, opposition parties refused to take up seats in the parliament, alleging voter fraud. Thousands demonstrated to demand a new election in November, with police firing water cannon at the crowd.
The EU brokered a deal between the government and the opposition in April which saw some opposition parties enter parliament.
Under the agreement, Georgian Dream agreed to hold a snap parliamentary election if it won less than 43% in Saturday's local elections.
But Georgian Dream announced its unilateral withdrawal from the agreement in July.
In a statement published at the time, the US said it was "deeply disturbed and exasperated" by the withdrawal.
"Washington is growing increasingly alarmed about repeated setbacks to Georgia's democratic future," it read.